High-Level Design
High-Level Block Diagram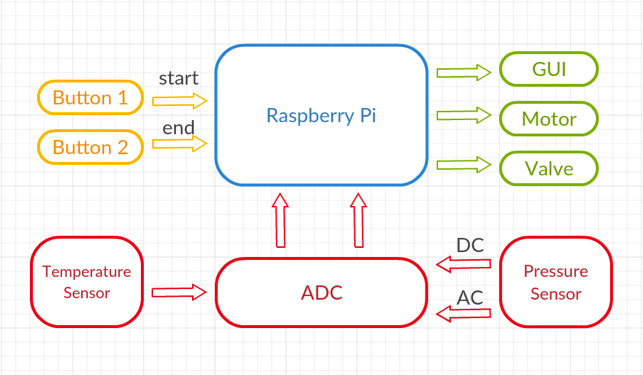 Body Temperature Measurement Mechanism
In our design, we chose to use TMP36 as the body temperature sensor. TMP36 is a low voltage, precision centigrade temperature sensor. It provides a voltage output that is linearly proportional to the Celsius temperature, and the output scale is 10 mV/°C. The advantage of this temperature sensor is that it does not require any external calibration to provide typical accuracies. We use an ADC to read the output voltage on the Vout pin, and the reading can be converted to temperature easily.
Blood Pressure Measurement Mechanism
In our daily life, a sphygmomanometer is the most common device used to measure blood pressure. Sphygmomanometer is composed of a cuff, which can be inflated by a manually operated bulb and deflated by a valve, and a mercury manometer to measure the pressure. When start measuring, the cuff need to be inflated rapidly to 180 mmHg (higher than systolic pressure). Then, open the valve to release air from the cuff moderately. At this time, doctor need to listen with the stethoscope and observe the sphygmomanometer at the same time. When cuff pressure reaches the patient's systolic pressure, the knocking sound appears. At the point when the knocking sound disappears, the corresponding pressure is the patient's diastolic pressure [1].
In our design, we simulate this blood measurement processes. When the program starts, motor will pump air into the handcuff until the pressure is about 180 mmHg, which guarantees the pressure is higher than the average systolic pressure. Then, the air will be moderately released from handcuff by opening the valve for 0.05s every 4s. While the handcuff is moderately deflated, we measure the small oscillations of air pressure in handcuff caused by heartbeats. The systolic pressure will be the point at which the obvious oscillations appear, and the diastolic pressure will be the point at which the oscillations disappear. At these processes, ADC will convert all the signals reading from pressure sensor, and will send them to Raspberry pi for further calculation.
Heart Rate Measurement Mechanism
In our design, heart rate measurement is done at the same time as blood pressure measurement. Depending on our observation, after systolic pressure appears for a few second, the heart pulse is strongest and stable. In this stable period, the heartbeat count and duration time are recorded. After all the measurement is done, heart rate can be simply calculated by dividing the heartbeat count by duration time in minute unit.